The Cadet editor is a full-featured text editor with a familiar Windows interface, capable of handling any size file or any number of drawing text entities which can fit in memory. Cadet's many word processing features include search and replace, cut and paste, word wrap, automatic indentation, and an integrated spelling checker.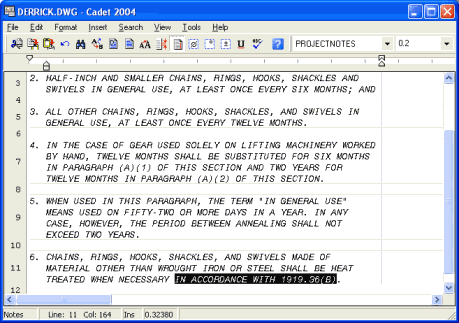 Now in its sixth generation, Cadet has been setting the standard for CAD text editing for over 16 years! The all new Cadet 2004 works with AutoCAD R14, 2000 and up plus vertical products (Cadet is not for AutoCAD LT), and IntelliCAD 4 and up on Windows 98/ME/NT/2000/XP/Vista/7.
See the review of Cadet 2004 in Plumbing Systems & Design Magazine!
Cadet is a product of Wasco Technical Software.