Cadet 2004 is four editors in one, capable of creating new AutoCAD/IntelliCAD text, editing existing AutoCAD/IntelliCAD text, and makes a handy general-purpose text file editor.

Table Editing

Cadet Create Table, Cadet Edit Table

Notes Editing
Cadet Notes, Cadet Edit Notes
Mixed Editing
Cadet Edit, Cadet Edit Attributes, and Cadet Edit Global
File Editing
Cadet External File, Cadet run directly from Windows

With Cadet's word processing abilities, ordinary AutoCAD and IntelliCAD text becomes easier to edit and format than multi-line Mtext.

Just one click converts text lines into paragraphs for editing with live word wrap and reformatting. Cadet's ruler makes it easy to change the indentations and margins individually or collectively. Cadet automatically converts paragraphs back to individual test entities in the drawing.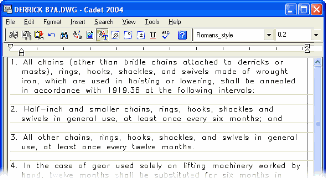 Cadet 2004 has the ability to display text using Windows fonts equivalent to those in the drawing. For substitutions, AutoCAD's and IntelliCAD's FONTMAP is honored, and Cadet provides its own font mapping to give you maximum flexibility, even when using your own custom or third-party fonts.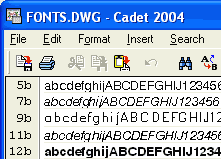 Cadet has all the features you should expect from a text editor; search and replace, cut and paste, text case reformatting, auto-indentation, smart tabs, bookmarks, selection drag and drop, full undo and redo capabilities, and a user customizable spell checker equipped with a 112,000 word dictionary.

Extensive configuration and options choices allows users to customize Cadet 2004 to individual tastes.

Cadet 2004 is the perfect companion to AutoCAD and IntelliCAD, and is suitable for all disciplines of engineering, design and drafting; mechanical, architectural, civil, electronics, piping... Any AutoCAD or IntelliCAD drawing with text or attributes on it is easier to edit with Cadet!



INTRODUCTION | DOWNLOAD | MORE INFO | PURCHASES | TIPS


Copyright © 2003-2011 Wasco Technical Software webmaster@wascotech.com This page updated 22 Feb 2011