PurgeDrive software cleans up the proliferation of Pro/ENGINEER files on your hard drives, with the utmost in versatility, safety, scope and speed. A product of Wasco Technical Software.





Are Pro/ENGINEER files taking over your hard drive?

Drowning in Pro/E Files


Every time you save a Pro/ENGINEER object (model or drawing), a new file is created. The old files (old versions of your work) remain on your hard drive. This feature is by design, and can be invaluable. If an object is damaged or bungled in development, you can easily revert to a previous version.

The problem is that these files propagate at an alarming rate, and large or lengthy projects begin to consume huge amounts of your drive space. In normal use, Pro/E also creates a profusion of temporary files that do not need to be kept permanently.

Pro/E Purge Limitations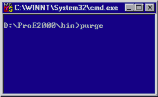 Pro/E does come with a rudimentary purge utility to remove old Pro/E objects. From the Pro/E menu, it will delete all the old versions of a single object. Accessed from the operating system command line, it purges all objects in the current folder. ...But... The Pro/E purge utility can not recursively purge subfolders, it will not leave more than one version, it deletes files such that they can not be restored, and it does not clean up other Pro/E temporary files.

Explorer extensions and batch files that utilize the Pro/E purge utility may increase accessibility, but remain limited in functionality. They permanently delete all but the latest version. Worse, some ambitious purge batch files have been known to delete critical Windows inf and dat files.




The PurgeDrive Solution!

Clean the waste from your hard drives without sacrificing the insurance of Pro/E version files! PurgeDrive Standard and PurgeDrive Plus are incredibly easy-to-use Windows programs that overcome the limitations of Pro/E purge and put you in control of the safety net.




PurgeDrive Standard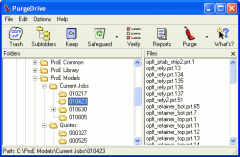 The standard edition of PurgeDrive is perfect for individual users and for the occasional maintenance of shared network folders.
Purges entire drives or folder/subfolder trees.
Removes specified temporary files in addition to old versions of Pro/E objects.
Integrated explorer style folder selection tool with optional file display.
Maintains a user defined list of folders to exclude from purges.
Allows you to specify the number of file versions to keep, choose a date after which all file versions are kept, or select the number of days to keep old versions.
Lets you choose how files are removed; delete files or move them to Window's Recycle Bin (local drives) or PurgeDrive's own Safety Bin (local and remote drives), from which they can be restored back to the original locations. Users can control the Safety Bin by defining how many days it keeps purged files and defining its capacity by size.
Identifies Pro/E folders by authenticating part, assembly, drawing, symbol, trail and configuration files.
Gives you the option to verify the purge; you can omit any files you choose from the advanced, easily-navigable file verification system.
Provides detailed reports after every purging operation



PurgeDrive Plus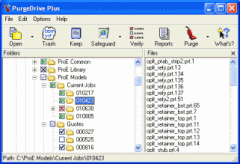 The advanced PurgeDrive Plus has all the benefits of the standard edition, with added features and functionality for power users and workgroup managers. PurgeDrive Plus is powerful enough to purge and manage an entire workgroup from a single administration location. In addition to the features found in PurgeDrive Standard, PurgeDrive Plus adds these capabilities:
Purges any combination of drives or folders. Purge multiple devices at the same time, even remote network drives, with any combination of recursive and non-recursive starting points.
Lets you save your drive and folder selections and purging options to reusable purge procedures, which can be loaded and run again and again.
Allows you to individually or recursively exclude subfolders from recursive purges in individual purge procedures.
Adds automation; you can schedule PurgeDrive Plus to automatically run purge procedures daily, weekly, at system startup, at logon, etc., without user intervention.
Can automatically create desktop shortcuts to frequently used purge procedures.
Features an outstanding checkbox interface for drive and folder selections.




No matter how small or large your engineering group, one of these two outstanding programs will meet your Pro/E file maintenance needs! PurgeDrive works on files from ANY version of Pro/ENGINEER, Wildfire and Creo Elements/Pro.